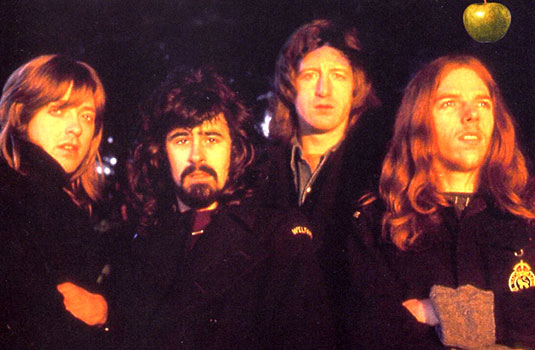 Recommended Albums
Badfinger
Badfinger were a British rock band that some consider the very first power pop group. Consisting of Pete Ham, Mike Gibbins, Tom Evans and Joey Molland they evolved from an earlier group called The Iveys based in Swansea, Wales. They were the first band signed by the Beatles' Apple label in 1968 where they renamed themselves Badfinger (rumor is that John Lennon helped name them.) Like the Beatles, Badfinger had four talented musicians each capable of writing and singing lead – in fact they were touted as the "heir apparent" to the Fab Four legacy. However if you've ever hear the term "Rock and Roll Tragedy" it is also inextricably linked to this band.
Paul McCartney helped get the band started by writing their first hit single "Come and Get It." The band would go on to produce hit songs like "No Matter What"  and "Baby Blue." George Harrison played guitar on "Day after Day," and Todd Rundgren produced their hit album "Straight Up." At the peak of their fame they wrote "Without You," a classic covered by Harry Nilsson and Mariah Carey. In fact the song is still one of the most covered today (180 covers). Over the next five years the band recorded several albums and toured extensively, before they became embroiled in the chaos of Apple's  bankruptcy.
Through it all, Pete Ham was the band's guiding force and lead singer but after they signed to Warner Brothers Records in 1973, their manager at the time Stan Polley stole the bands earnings and disappeared. This left Badfinger both broke and sued by their record company. Despite this the band continued recording, until a depressed Ham committed suicide in 1975. The band splintered into two and found the remaining members struggling to survive. Tom Evans took his own life next in 1983.
However the bands combination of hard rock sound and melodic genius is what we remember from them and their album catalog is full of riches that never quite had the audience it deserved. It needs to be re-discovered and revered.
Aaron Kupferberg
Powerpopaholic.com