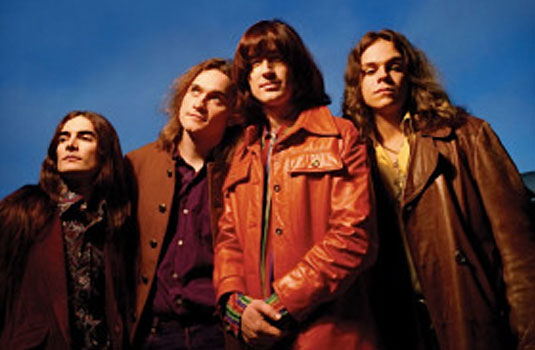 Recommended Albums
Jellyfish
There's a long-running debate among power pop fans –and even within the band itself—about whether Jellyfish 'qualifies' as power pop. "Too baroque," scoff some. "Not enough guitars," say others.
"Too orchestrated."
"The clothes are too loud."
"Too many chords."
"Is that a glockenspiel?"
All of those issues miss the point –especially the one about the clothes.
The actual point: in just under three years, Jellyfish made two records that any band, power pop or no, would be honored to call their own.
Bellybutton and Spilt Milk manage somehow to convey the best of the past, present, and future of pop music, often in the course of one track. "The Man I Used To Be," the first song off Jellyfish's first record, opens with a pipe organ, follows with a guitar-accented lament, bursts into a soaring, harmony-laden bridge, and closes with a heart wrenching chorus straight off an old Stax 45.
Yes, pulling off that sort of sonic ballet takes some attention to detail. It also takes real passion, and rare talent. Their writing and recording sessions, driven by the motto "All killer, no filler," found them double-checking every note in an effort to make the best records they had in them. Where the elaborate arrangements and exhaustive chord palette might have tripped up a lesser live band, Jellyfish drew from a veritable wishing well of talent.
Principals Andy Sturmer and Roger Manning brought on bandmates –first Jason Falkner and Chris Manning, then Tim Smith and Eric Dover—with the vocal chops to sing lead in any other band, the instrumental savvy to play most anything, and the musical acumen to do them both simultaneously. Their celebrated live shows leveraged those abilities (honed through months extensive rehearsal) to bring the songs to rich, resplendent life.
If anything, those usual Jellyfish criticisms unwittingly highlight the strength of the music. Creating records that are both catchy and sophisticated, complex yet natural is no easy feat. It's near impossible, actually. Roger and Andy could build on a limitless library of chords and structures and mine a century's worth of pop music to write immediate, timeless songs that make listeners smile and dance while they cry and make them dream while they sing. And in the end, those sensations announce the best kind of power and the most important kind of pop.
Craig Dorfman
Craig Dorfman is the author of Brighter Day: A Jellyfish Story
www.lousydrummer.com