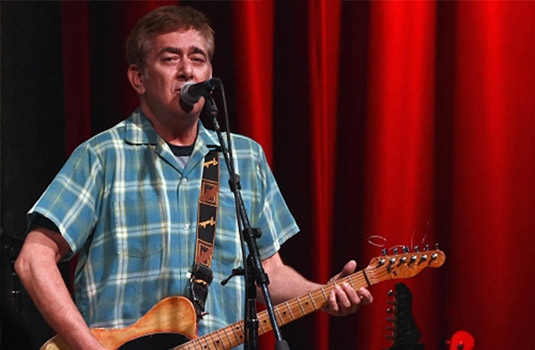 Recommended Albums
Tommy Keene
Tommy Keene is one of those artists that won't mean a lot to people outside of the Power Pop world that I inhabit, but in that world he is a God. Like so many of the Power Pop Greats, the simplicity and hooks of his songs masked his technical ability. He was an awesome guitarist and a lover of music, much of it far different from what he was noted for.
He never really understood how beloved he was. He'd be concerned about filling a small venue that was always gonna fill, than realising how good he was. He talked about diversifying on whatever album was next and would eventually release an album of what people wanted, great Power Pop and how we wanted it. My conversations were only occasional, but in them, he was always charming and interested and incredibly modest. I certainly didn't know him as much as others, but he treated everyone as a friend.
In the early 80's, post UK New Wave, I was falling out of love with music. I hated the New Romantic scene and turned to the States for motivation. It wasn't easy in those days to discover new music abroad, the one thing the internet has done has brought those fans closer together. You had to scour the Rolling Stone or Record Collector Ads and I stumbled on the IRS scene from there developed an interest in all things Mitch Easter and in 1984, I was told about Tommy Keene. The Places That Are Gone 12 Inch, opened up a whole new world to me, this was Pop but not as I knew it. I grabbed everything thereafter.
Power Pop is a dividing label, it always seems a hard thing to sell and a genre that loads love but few buy. There was far more to Tommy than the consistently great albums that he released. Live, he was incendiary and his Keene Brothers album with Robert Pollard remains one of my favorite albums ever. Other musicians knew his Technical ability and he was an axe hero for the likes of Robert Pollard and Paul Westerberg. No one could match bittersweet lyrics with big guitar hooks as well as Tommy Keene.
I rarely write pieces such as this. A simple acknowledgment is usually all I offer. However, when I look for musical heroes, Tommy is one of the few. I would not have discovered Power Pop and all the wondrous people around it without that 1984 EP. His music has never let me down and his warmth only made me admire him more.
Tommy Keene (1958 – 2017) was a brilliant musician who never got the full appreciation he deserved. "Places That Are Gone" a great single from 1984 is a perfect example of what made Tommy a Power Pop legend.